TEKNO-THERM
INTELLIGENT PASTEURISER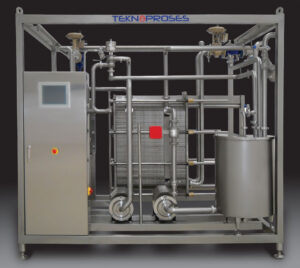 Pasteurisation unit is the heart of a food processing plant. It ensures the heating process according to the technological requirements.
Tekno-therm intelligent pasteuriser is used to produce a wide range of products such as; milk, cream, brine, fruit juice, egg, ketchup, mayyonnaise, beer, honey, vegetable oils and ice cream mix.
Tekno-therm intelligent pasteurisers are in variable capacity from 1.000 L/h to 60.000 L/h.
Depending on the individual production requirements, a wide range of machinery can be coupled with the Tekno-therm intelligent pasteuriser such as; deaerator, bacteria clarifier, cream seperator, automatic standardization unit, homogeniser and holder.
The know-how of Teknoproses engineers and the well-proven GEA components ensure excellent performance.
The effects of Tekno-therm intelligent pasteuriser on your product quality;
• Minimizes the risk of human error with high automation level
• Obtain food safety
• Full traceability
• Standard product quality
Tekno-therm intelligent pasteuriser does the following steps with a SINGLE TOUCH
• Automatic water reception
• Sanitation
• Get the thermal program according to the selected product
• Automatic product receiving
• Automatic CIP after process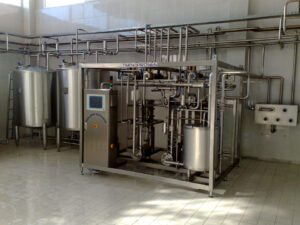 With the Tekno-therm intelligent pasteuriser every step of the process is registered in data log.
• Temperature
• Flow rate
• Pressure
• Product-hot water temperature difference
• CIP data
Body components:
• Shuttle valve
• Hot water PHE
• Touch panel
• Frame
• Plate
• Sliding Element
• Temperature Transmitter
• Flowmeter
• Hygienic Balance Tank
• Centrifugal Pump
Tekno-therm intelligent pasteuriser – Energy Saving
• The heat recovery up to 95%
• Minimum steam, water and electricity consumption
• Shorter start-up time
• Longer running time
• Automatic CIP
Tekno-therm intelligent pasteuriser – High Safety Level
• Pasteurizer has standard safety devices that provide higher pressure on the pasteurized product side. There is no risk of un-pasteurised product mix into pasteurized product.